Lifecycle Support by gabler
We at GABLER regard ourselves the preferred life cycle partner for shipyards, arsenals and navies. In each and every phase of the submarine's life cycle, we offer the perfect service to minimize life cycle costs for you. Our formula for your success: individual, tailor-made life cycle support concepts in which we combine our services and the qualification of your team according to your needs.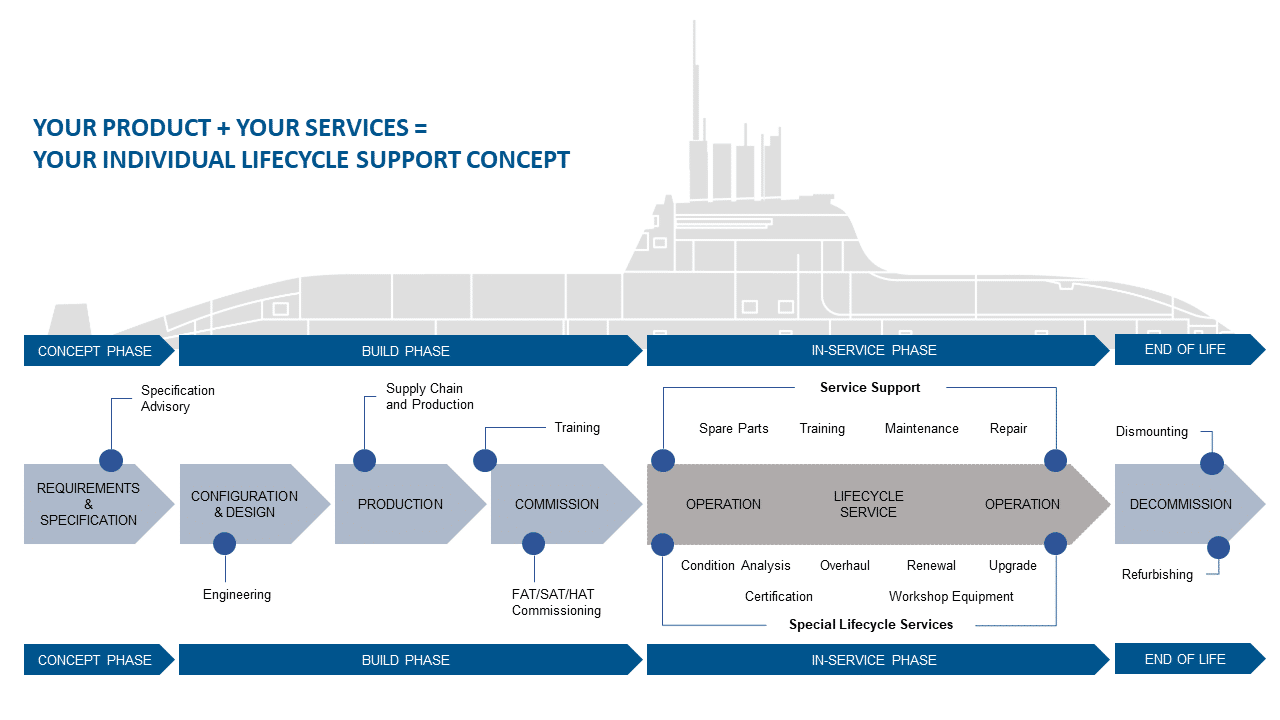 Come join us on a trip through the GABLER Lifecycle Support:
With our know-how we support already during the design phase

Consulting in requirements management
We advise you in the specification of requirements to mast systems in the course of new builds and modernization projects. Because already in the design phase of a submarine, the course for later serviceability is set.
>> Early identification and avoidance of cost drivers
During the construction phase, we accompany shipyard and navy in all important services

Support in the design of naval components up to the overall design by order – performed by our experienced team of naval, stress and composite engineers.
>> Highest quality of performance thanks to years of experience
Design of a project-specific supply chain. For example, in a bundle as general contractor / integrator or by support in implementing offset or local content requirements.
>> Design of a simple and reliable supply chain, also under offset- requirements
Highest quality production (by order) of components at GABLER or in combination with production partners and offset companies on site ‒ individually adjusted to the project requirement.
>> Highest reliability in terms of delivery capacity and component quality
Our training sessions for operator and main trainer ensure that your crew is first-class qualified.
>> High degree of competence right from the beginning ensures high availability
Performance of installation and commissioning of the mast systems and/or components.
>> Highest production quality and efficiency directly from the OEM
Over the decades of service of your submarine, GABLER services will help you to ensure availability of the submarine and the key functions in the tower and to keep them state-of-the-art.
Performance of regular maintenance tasks according to the manual as part of a service agreement
>> Relief of your resources and early detection of functional deviations
Rapidly available repair services for mast systems and components in OEM quality
>> Keeping performance up, reliably and rapidly
Within a very short time we deliver spare parts in OEM quality all over the world ‒ via telephone, web shop or VMI
>> Reliable availability and quality directly by the OEM
Qualification of your service crew and project management to perform life cycle projects
>> Setup of your own qualified resources on site
Special Lifecycle services
Performing regular inspections in regard to device status and performance
>> Early identification of abnormalities + avoiding defects = increased availability
Total overhaul of the mast systems in regard to replacing wear parts
>> Extending the service life and availability of the mast system
Complete dismounting of the mast systems and components, and replacement of all components under stress
>> As-new devices incl. attractive warranty packages
Optional certification of your overhaul or renewal projects to maintain the OEM quality
>> Additional safety due to detailed quality and process inspections
Equipping your workshop with specific workshop equipment and tools for mast systems
>> Independent performance of life cycle services on site
Extension of functions and capabilities (upgrade) such as the integration of new sensors and/or use of modern materials and low-signature components
>> Expansion of the submarine capabilities
Even the long service life of a submarine will come to an end eventually - we support you in decommissioning

Dismounting & Refurbishing
Professional dismounting of the mast systems and components as well as proper disposal or reprocessing of the components to integrate them into the spare parts circuit
>> Sensible and economic utilization of your systems